About Burke Educational Travel


Burke Educational Travel, a division of Burke International Tours / Christian Tours, was created specifically to provide learning experiences to the educational community through the world of travel.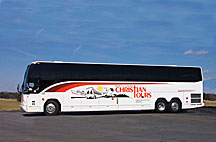 Our company is highly regarded and trusted within the travel industry and across the country. After years of providing full tour and charter services to groups, Burke Educational Travel is our response to the tremendous need for travel services that cater primarily to school groups and educators.

You already know that travel is a valuable educational tool. Whether you are planning a class trip, a performance tour, a study tour, a festival tour, a staff get-away, or a few vacation days just for fun, you'll want to give Burke Educational Travel a call. You'll be glad you did!

Why? Burke International Tours / Christian Tours has been successfully providing travel services and charter bus transportation for more than a quarter of a century. Over 100 employees are individually trained to provide exemplary professional services. Burke Educational Travel has the full benefit of this experience, and is committed to upholding the standards that have made Burke International Tours / Christian Tours the premier tour company in the Southeastern United States.

It will be our pleasure to serve you and your group.
What Sets Us Apart?
We book quality hotels.
We utilize our own fleet of H-Series Prevost Motorcoaches:
Click HERE for Motorcoach Specs
Our own in-house travel agency can handle airline, cruise, and rail bookings.
We maintain memberships in major motorcoach and tour organizations.
More than 35 years experience in the group tour industry.
Outstanding safety record.
Full insurance coverages required by federal law.
What's Included In Our Tours...
Complimentary Tours & Incentives
Lodging
Attractions
Sightseeing
Professional Drivers
Professional Tour Directors
Motorcoach Transportaion
Meals - Upon Request
Hotel Security - Upon Request
To Plan and Book a Tour...
To plan a tour with us Click Here For Our Online Form or give us a call at 1-800-476-3900 toll free or locally (828)-465-3900. You need only to provide us a little information including:
Your Destination
Preferred Dates
Meals to be Included
Attractions to be Included
Number of Passengers - Students, Teachers, other Adults